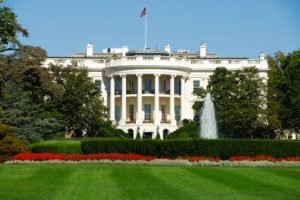 The White House

View Photos
A new Field Poll has the majority of California Democrats supporting Hillary Clinton for President, while Jeb Bush ties with another possible Republican candidate.  The survey asked 1,241 registered voters in California who they would vote for if the election were held today.
While Clinton has not formally declared she will run for President, she has a wide lead as the front-runner in the Democratic field of candidates with an overwhelming 59% of likely voters backing her.  That number far surpassed Clinton's nearest potential rival, Massachusetts Senator Elizabeth Warren with 17%.  Following with 9% is Vice President Joe Biden, Vermont Senator Bernie Sanders with 6% and former Virginia Senator Jim Webb at 2%.
The poll found no standout in the Republican Party candidates.  On top was Wisconsin Governor Scott Walker at 18%, and former Florida Governor Jeb Bush at 16%. A host of other Republican hopefuls trailed behind, dividing another 47% of the vote; 19% were undecided.