Another PAWS Elephant Dies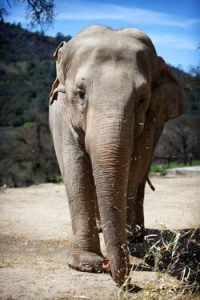 Wanda at PAWS

View Photos
San Andreas, CA – The second Asian elephant in nearly three months has been put down at the San Andreas Performing Animal Welfare Society (PAWS).
PAWS officials say last Wednesday, Wanda, a 57-year-old elephant had to be euthanized, following a long battle with arthritis and foot disease.  Those two aliments are the leading reasons for putting down elephants in captivity, according to PAWS.
"Every elephant at PAWS is special, but Wanda stood out for her adventurous spirit.  She will be very much missed," said PAWS president Ed Stewart.  "I'm proud we were able to give her a more natural and enriched life at the PAWS sanctuary for nearly 10 years."
Born in the wild in Asia around 1958, Wanda was captured at a young age and shipped off to the United States.  PAWS officials says before her arrival at the sanctuary in 2004, she had seven homes including Disneyland, a circus, zoos in Texas, and finally the Detroit Zoo in Michigan.
Wanda was one of the oldest Asian elephants in North America.  In November, Annie a 55-year-old elephant was also euthanized at PAWS after suffering from similar illnesses.