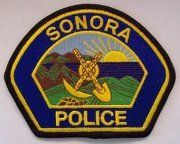 Sonora Police Seal

View Photos
Sonora, CA –   Sonora Police are searching for the man who sexually assaulted a woman in the Morning Star Drive area.
Police were alerted to the incident just after 8 p.m. Monday when the woman knocked on doors in the 300 block of South Shepherd Street asking for help.
The 19–year-old victim, who is not from the area, told officers that at around 5:30 p.m. she was walking on the trail between the Sierra Village Apartments on 250 Greenley Road and Morning Star Court when a man came up from behind her and put a knife to her throat.  She says he told her if she did not do what he told her to do he would kill her.  The woman says that is when the man forced her under an overhang of a residence on Morningstar Drive and sexually assaulted her.  Then the suspect took off running towards Morningstar Drive.
Investigators described the suspect as a white male, unknown age, medium/athletic build, dirty blonde facial hair, wearing a gray beanie, blue t-shirt, gloves, and black pants.  Anyone with information regarding this incident should contact the Sonora Police Department at 532-8141.
Sonora Chief Mark Stinson cautions residents to try to always walk in pairs or more, in well-traveled areas, and let others know where you are going on your walk so police will have a reference point in case of an emergency.