Mock Wildfire Volunteers Needed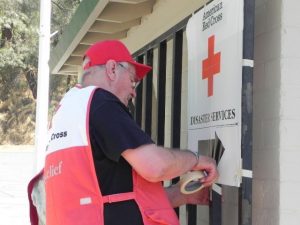 Red Cross Shelter at the Mother Lode Fairgrounds in Sonora during the Rim Fire

View Photos
West Point, CA – Playing the role of evacuees is not such a stretch for some Mother Lode residents after the Rim Fire.
There is a need for that real life experience at a large-scale wildfire drill scheduled for April 16 in the West Point area along the North Fork of the Mokelumne River between Amador and Calaveras Counties.
After the mega fires of the last few years, like the Rim, King, and Sand, West Point Fire Protection District Chief Jim Carroll says the Mokelumne River Canyon is one of the last major watersheds in the region that has not yet had a large fire.  He adds, "It is not a matter of if, it is a matter of when."
Recruiting has begun to find volunteers to play the role of evacuee. Exercise coordinator Dennis Lewis says, ideally, he is looking for about 25 volunteers with real life experience, drama students, students from emergency-related career training programs, or anyone willing to take on the role of an evacuee during an emergency.
"Those volunteers will be given scenarios to play that will test the response of emergency personnel," Lewis said. "For example, it is not unusual to have people show up at a disaster shelter without their prescription medication, or to be under severe psychological stress. We need actors to play those roles."
Twenty-six agencies including local fire districts, Cal Fire, two county sheriff's departments, private businesses and the American Red Cross will all be taking part in the drill. For more information, or to volunteer, contact Lewis at delewis63@yahoo.com.