Summerville, Mountain Oaks Win Regional Decathlon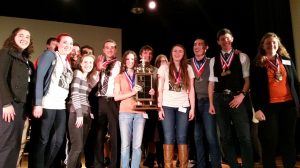 Summerville HIgh School Academic Decathlon Team Celebrates 2015 Regional Win

View Photos
Sonora, CA – Teams from Summerville and Mountain Oaks high schools will respectively represent Tuolumne and Calaveras counties in Sacramento at the California Academic Decathlon next month, following wins this past weekend.
Contenders from six high schools competed Saturday at Sonora High School in team and individual events. The Tuolumne Calaveras Regional Decathlon Scholastic Competition is part of the 33rd Annual Regional Academic Decathlon events held this month across the state. Along with Summerville and Mountain Oaks high schools, teams from Sonora High School and Tioga High School from Tuolumne County participated, as well as Bret Harte High School from Calaveras County.
Considered the premiere national scholastic competition for high school students, state Academic Decathlon organizers promote the events as opportunities for students to experience rigorous team and individual academic competition in ten events across a spectrum of subjects, as teams advance through local, regional and state levels of competition.
As local champions, the Summerville and Mountain Oaks teams, along with regional winners of the individual events will travel to Sacramento for the state competition that will be held March 20-22. Come April, state level team and individual champions will face off during the national finals in Garden Grove, California.
Scores from the regional competition follow below…
SuperQuiz Winner: Mountain Oaks – 3675
Top Scoring Team – Calaveras: Mountain Oaks – 39209
Top Scoring Team – Tuolumne: Summerville – 41001
Team Scores:
Bret Harte High School – 33750
Mountain Oaks High School – 39029
Sonora High School – 30739
Summerville High School – 41001
Tioga High School – 30846
Top Point Earners:
Honors — Claire Schermeister, Summerville
Scholastic — Conor Broderick (and top scorer for entire competition), Mountain Oaks
Varsity — Gaige Stewart, Summerville