Sierra Nevada Flash Flood Watch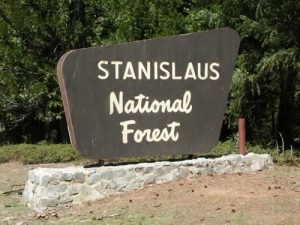 Stanislaus National Forest

View Photos
The National Weather Service has issued a Flash Flood Watch for the Sierra Nevada through Sunday evening.
Two back-to-back storm systems will produce heavy rainfall totals over the region this weekend. Excess runoff combined with substantial water rises along rivers and streams will increase the threat of flash flooding and the possibility of debris flows and mud slides, particularly over the Rim Fire burn scar and the El Portal burn scar.
The first round of heavy rain has moved through and another round is forecast to move through on Sunday.
Rainfall rates could exceed one half inch per hour at times during the storm.
The severely burned areas will be of particular concern. This includes the Granite Creek basin. These areas no longer absorb any rainfall, leading to enhanced runoff. Those traveling along Cottonwood Road, Cherry Lake Road. Lumpston Road and USFS Road 3n01 should be alert for possible road problems due to flooding, rock and debris flows.
Residents, campers and hikers should remain keenly aware of water levels along rivers and streams and be prepared to move to a place of safety this weekend should flooding become a serious threat.
Additionally, A Winter Storm Warning remains in effect for the Sierra Nevada above 8000 feet until 10 AM this morning.
An additional four to eight inches of snow accumulation inches is likely this morning with
storm totals ranging from ten to twenty inches.
Winds of thirty to forty mph will continue with gusts up to seventy-five mph over the Sierra Nevada crest.