$20 Million Coming In Central Valley Water Relief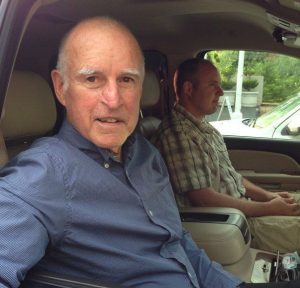 Governor Brown at the Mother Lode Fair: Photo taken by: Tracey Petersen

View Photos
Sacramento, CA – Today, as the state faces its fourth year of drought, comes word that more than a third of up to $50 million in federal relief funds for western states will come to California.
According to Interior Secretary Sally Jewell and Governor Jerry Brown, who spoke about the newly available funding, approximately $20 million is earmarked for the Central Valley Water Project to cover water transfers, drought monitoring for endangered species, as well as for diversifying water supplies.
The funds, like this weekend's wet forecast, come as welcome news, as Northern California suffered an unusually dry January and saw its Sierra Nevada snowpack — California's primary water source – at a quarter of its normal level. Brown, who declared the state drought emergency a year ago last month and signed a $687 million drought relief package, is now proposing to, this year, spend $115 million to provide for emergency drinking water and firefighting needs.