Rain, Wind And High Sierra Snow Through Monday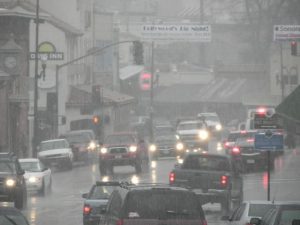 Rain In Sonora

View Photos
A tropical moisture plume over the Pacific is feeding two waves of precipitation and gusty winds over Northern California today through Monday.
The first wave is pushing southward through Northern California today through Saturday.
The National Weather Service has issued a Winter Storm Warning for the Sierra Nevada above 8000 feet, which is in effect from 4 pm this afternoon to 4 pm Saturday.
Snow levels will start and remain high, generally above 7000 feet but some stronger convection this evening will bring snow levels a bit lower.
Snow accumulations of four to eight inches is likely above 6000 feet. Twelve to thirty inches of snow is expected above 8000 feet.
The heaviest snow is expected late tonight into Saturday morning. Snow will diminish during the day Saturday.
Additionally, a Wind Advisory is in effect for the Mother Lode, the Sierra Nevada and the Central Valley until 7 am Saturday.
Wind gusts of up to fifty mph will continue in the Mother Lode. Winds over the Sierra Nevada range from twenty to forty-five mph with gusts up to seventy-five mph. In the Central Valley, winds range from fifteen to twenty-five mph with gusts up to forty-five mph.
The strongest winds are anticipated this afternoon through the evening hours.
Precipitation amounts in the Central Valley through Saturday are expected to range  around an inch.
This will be followed by another round of steady precipitation Sunday into Monday.
Through Monday, rainfall amounts for most of the Central Valley are expected to measure from two to five inches. Five to ten inches of rain is expected across the foothills and the Sierra Nevada.
Some of the impacts could include urban and small stream flooding and the potential for debris flows near wildfire burn scars. Also there may be localized power outages and downed trees due to breezy winds.