Back To Nature At Columbia College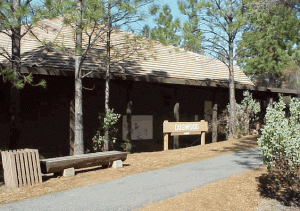 Columbia College Dogwood Theatre

View Photos
The Second Annual Back to Nature Film Fest is taking place at Columbia College in the Dogwood Theatre on Saturday, March 14, 2015 from noon to 10 pm.
Angela Martene, President of the Columbia College Forestry and Natural Resources Club, and Chris Wilkenson, Public Relations Coordinator for the Film Fest, were the KVML "Newsmakers of the Day".
Wilkenson is also behind the annual ITSA FILM FESTIVAL in Sonora, which has partnered in conjunction with the Columbia College Forestry & Natural Resources Club.
This all day event will feature speakers from the local community who are involved in various aspects of the environment.
There will also be a number of short films followed by two headlining films.
These are DamNation and Nobody's River, which sold out recently at 2nd Saturday Arts Night in Sonora. The two films are set to screen between 8 pm and 10 pm.
DamNation is a "film odyssey across America" which explores the change in the national attitude from pride in big dams as engineering wonders to the growing awareness that the future is bound to the life and health of our rivers. Dam removal has become a new reality. Where dams come down, rivers begin to flow naturally again, giving salmon and other fish a chance to return to primeval spawning grounds, after decades without access.
Nobody's River captures the story of a group of women (including two former Mother Lode residents) in their seventy day expedition along the Amur River which runs from Mongolia to Russia. They traveled 5,000 kilometers along a wild, free-flowing river, the team documented the challenges, triumphs, and humorous adventures of this journey.
$5 All Day Pass Tickets are only available at the door for the general public. Students with I.D. and the staff of Columbia College will be admitted for FREE. One hundred percent of all ticket proceeds will benefit the Columbia College Forestry & Natural Resources Club.
The "Newsmaker of the Day" is heard every weekday morning on AM 1450 KVML at 6:45, 7:45 and 8:45 AM.