Mono Way Project Nearly Completed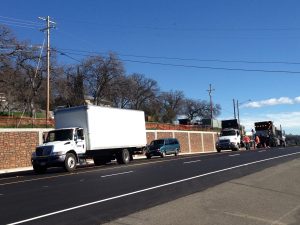 Mono Way Widening Work

View Photos
Sonora, CA — You now have five lanes to travel on Mono Way, and the overall project should be wrapped up within two weeks.
Sonora City Engineer Jerry Fuccillo says all the paving work is completed, and the crew is out today putting down some of the final striping. All of the traffic lanes, as part of the widening project, are now open. Fuccillo says a new bus stop will be constructed next week near Fir Drive, and the contractor still has final sewer and drainage work to do. Only minor traffic delays are expected, though, over the next two weeks.
Fuccillo says the stretch from Greenley Road to Fir Drive has a new look and feel. "I would caution everyone to not treat it as a speedway," he says. "It's still a 30 mph zone, as a business district, so please slow down."
Fuccillo says motorists will also note that there is an additional lane at the Mono Way and Greenley Road intersection, which should improve traffic flow in that area. George Reed Inc. has been overseeing construction on the roughly $3.9-million project.