End Of January Weekend Events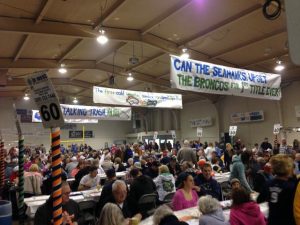 Super Bowl Breakfast

View Photos
It is a sports event weekend in the Mother Lode region, starting with Columbia College Men's Basketball. This Saturday at 6pm the local Claim Jumpers, who are in 2nd place in the Central Valley Conference, take on the College of Sequoias (COS). The game will be held in the Oak Pavilion at Columbia College. General admission seating is $5, for other ticket prices and details view the Claim Jumpers vs Cos event listing. The next home game is February 4th at 6pm vs West Hills College.
An all-you-can-eat crab feed on Saturday will benefit the services of Sierra Senior Providers. Dinner includes soup, salad, bread and crab. Tickets information is in the event listing.
The Calaveras Arts Council and Soroptimist International of Calaveras County are again partnering to host Chairs for Charity. Held in the San Andreas Town Hall, the suggested theme for the chairs is sports: baseball, football, fencing, horseback riding, skiing, kayaking, golfing, etc. Thirty chairs will be up for bidding, professional artists and community groups receive 40% of the auction price. Details and ticket information are in the event listing.
Railtown 1897 State Historic Park (SHP) is seeking volunteers to help with education and interpretation programs. Saturday from 10:00 a.m. to 2:00 p.m. at Railtown 1897 State Historic Park prospective volunteers will have the opportunity to meet Park staff and current volunteers. No previous experience with trains or public service is required, the event listing is here.
Of course on Sunday is the Super Bowl. The 29th annual Frank Salel Super Bowl Breakfast is this Sunday morning at the Mother Lode Fairgrounds. Proceeds from the event put on by the Sonora 49er Rotary Club will help fund scholarships for graduating Sonora High seniors. Details are here. There is also the American Legion Sunday Breakfast
held this Sunday and on the first Sunday of each month.