Book Captures Sonora Yesterday And Today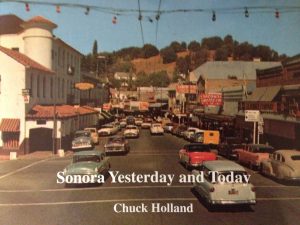 Sonora Yesterday and Today

View Photos
Chuck Holland was raised in Sonora and remembers what the community was like when he walked as a child from his house to Sonora Elementary School, which was located in the Dome building.
Holland was Thursday's KVML "Newsmaker of the Day".
Eventually, Holland worked for twenty years as a teacher at Columbia Elementary and then retired as a Tuolumne County School Superintendent. It was after that, that Holland began volunteering his time at the Tuolumne County Historical Society (TCHS).
While going through several thousands of photos archived at the TCHS, Holland began to compare scenes in the half century old photos with what he saw today from the exact same vantage point. It was during this process, that an idea formed.
What if he compared photos of Washington Street in Sonora from the 1930s, 40's, 50's, 60's and 70's with the exact same view of Washington Street today?
The result is a 84 page book featuring 151 photos of pictures placed side-by-side with brief descriptions of the businesses, owners and various landmarks in each photo.
Often, small items that aren't completely obvious are pointed out, such as building additions, remodels, concrete curb relics and antiquated stone pillars.
Holland noted the large amount of trees in Sonora today would often impede his comparison views. This is especially evident with nearly every angle of the Sonora Dome and Sonora High School.
Similar to being placed in a time machine, the reader is able to follow Washington Street page-by-page from the old Tuolumne General Hospital up to Sonora Union High School.
"Everyone who has lived here for a while and has looked at this book, has had some tremendous stories to tell and memories to share," said Holland. "This was my first book and I'm already considering doing more of these for other portions of Tuolumne County"
For Holland, this was truly a labor of love, as recapturing the photos and doing a bit of narrative research took about two years. All of the proceeds and profits of the book go directly to The Tuolumne County Historical Society. In fact, it is the only place that the book is available.
For more information on the book and the Tuolumne County Historical Society, log onto http://tchistory.org/
The "Newsmaker of the Day" is heard every weekday morning on AM 1450 KVML at 6:45, 7:45 and 8:45 AM.