Cause Of Copper House Fire Released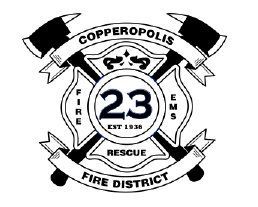 Copperopolis Fire Protection District

View Photos
Copperopolis, CA – Copperopolis Fire Protection District officials have determined the cause of a house fire over the weekend that displaced two residents and destroyed a home.  As reported this past Saturday, flames broke out in a home on the 1000 block of Iroquois Circle by Feather Drive off O'Byrnes Ferry Road in Copperopolis.
"It looks to be an electrical fire, "says District Engineer Nick Maness.  "By all indications it started up in the ceiling roughly in the area of the swamp cooler."
Originally, a neighbor had reported smoke coming out of the roof of home.  The house was 25% involved when firefighters arrived on the scene.  It took about an hour for crews to knockdown the fire, which destroyed the home.  Maness explains, "The outside is fairly well intact structurally speaking, but the interior of the house sustained a substantial amount of heat from the fire, which caused a lot of damage to pretty much a hundred percent of the contents of the interior of the structure as well as smoke damage."
The Red Cross is assisting the two residents of the home.