State May Dam Portions Of Delta Due To Drought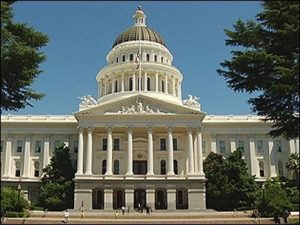 California Statehouse

View Photos
Sacramento, CA — Due to the lack of precipitation, the state is considering whether to temporarily dam some channels of the Sacramento-San Joaquin Delta.
The California Department of Water Resources reports that it has submitted an application to the U.S. Army Corps. of Engineers to install rock barriers across three Delta channels. If approved, the permit would allow the barriers to be installed up to three times over the next 10 years. They could remain in place no longer than eight months at a given time.
The emergency drought barriers would limit saltwater intrusion from the San Francisco Bay, minimizing the amount of water that would need to be released from upstream reservoirs to repel the salt. There is a 30-day comment period where residents can comment on the plan before it would actually move forward. The Delta provides water to around 25 million Californians.
The idea to place rocky barriers was also considered last year by DWR, but it was later deemed unnecessary due to late season rainfall.
California is in the midst of its fourth year of drought, and this month has been one of the driest on record. As reported yesterday, Sierra Nevada snowpack in the Mother Lode region is only 24% of average for the date. The lack of snow has also had an impact on tourism in the Mother Lode, as Dodge Ridge Ski Resort remains temporarily closed until more snow arrives.