Dry January Creating Snow Pack Concerns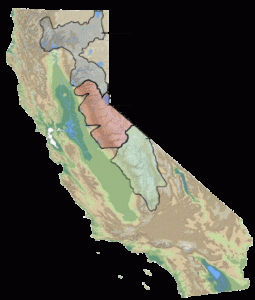 Snow Water Equivalents, 2-26-2015

View Photos
Sacramento, CA – Today's Cooperative Snow Surveys statewide data show a 23 percent drop in Sierra snowpack levels since the season's first manual snow survey last month.
As of Monday, Jan. 26, the statewide snow water equivalent stands at 27 percent of the multi-year average, roughly "a quarter of normal," according to Doug Carlson, state Dept. of Water Resources information officer.
The first survey, filed Dec. 30, 2014, reported the statewide average at 50 percent. While far from sufficient, it showed a 30 percent improvement over the previous year's initial survey, which, at 20 percent of normal, ties with winter 2012 as the driest on record. Presently, the snow water equivalent in the Mother Lode, located in the Central Sierra region, at 24 percent, is three percent below the statewide average.
"Water conditions continue today, as roughly they were a week ago, and two and three weeks ago… locked into a kind of dry and warmer than usual situation…not unlike what we've seen in the past year," Carlson says. "We'll be going out and measuring it again Thursday manually, but our electronic readings show that we are barely over a quarter of what we should have this time of year, so we're not anticipating anything to suggest that we've turned the corner of the drought – just the opposite."
Of the state's 12 major reservoirs, New Melones, currently at 23 percent of its capacity and 40 percent of its historical average ranks as the third lowest reservoir in percent capacity; second lowest with regard to historic average level. Lake Don Pedro ranks as sixth lowest in percent capacity and historic average.
While the storms that blew in early December did drop "a fair amount of water" and the run off has taken some time to flow into the streams, rivers and reservoirs, Carlson says, the reservoirs, as they marginally continue to rise, ought to be up by significantly more than they are now. "We're far below normal for all major reservoirs…and until we get about 150 percent of normal rainfall — we are not going to push those reservoir levels up to normal."
The precipitation index in the Northern Sierra, an integral part of the state's abilities to gather water as it normally falls, has been virtually flat lining or barely trickling into the reservoirs since Christmas, Carlson points out. "We just have to hopefully see this ridge of high pressure area that has been hanging over California and off the coast for weeks now. If that breaks, than maybe we can see some of the storms that normally are impacting us in the months of December, January and February, the three months that normally give us 50 percent of our annual precipitation…we just absolutely have not [yet] come to see that."