Stiff Competition For A Second Try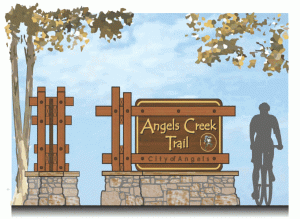 Angels Creek Trail

View Photos
Angels Camp, CA — Last year, Angels Camp came up just shy of securing federal funding for its Angels Creek Master Plan and Trail project, but this year they hope to make it to finish line.
"Competition is stiff and the money is spread out throughout the country, so it's a tough sell," says City Planning Director David Hanham.  Even with those odds, the city council this week approved staff to re-apply for a Federal Land Access Program Grant (FLAP).  The hope is to get $5 million to pay for the design, environmental studies and construction of the trail that would connect downtown Angels Camp to New Melones Reservoir.
Hanham feels this time staff has a slight advantage.  He says the feedback from the first submission has helped to focus on "tweaking" certain areas of the proposal, instead of scraping the original application and starting from scratch.  "Hopefully this will get us over the hump," says Hanham.  "We took a look at some of the amenities and how it [the trail] would connect to the Bureau of Reclamation as one of the grant requirements is that it connects to federal lands.  We bolstered up on the connection of trail system in New Melones as well as ours [Angels Creek Trail], so they [federal officials] could really see the connection between the city and federal lands."
The trail would span about five miles, along the Angels Creek Trail.  It would run from Murphys Grade Road to New Melones Reservoir, where it would connect with existing trails there.  Hanham says staff will submit the application as soon as possible and then it will take 4 to 5 months to find out if the trail will be funded.