Columbia Airport Plan OK'd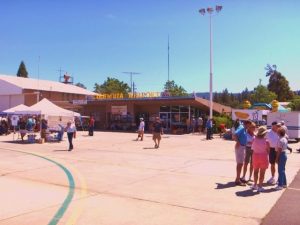 Columbia Airport

View Photos
Columbia, CA – The annual capital improvement plan, which proposes some $9-million in improvements at Columbia Airport over the next five years, was presented to the Tuolumne County Supervisors Tuesday.
Airport officials are hoping to receive grant funding to help cover a majority of the costs. In submitting the annual improvement plan for Columbia Airport, County Airports Division Manager Benedict Stuth indicated that it encapsulates a 2015 focus on updating the airport's 20-year master plan, with the help of a consulting firm, for an estimated $300,000.
Under the improvement plan, projects slated for the next five years, which include a planned 2015-2016 rehabilitation and reconstruction of two taxi-ways, could be eligible for grant funding, which would include a five percent match from both the state and county. Other planned improvements eventually include improving the parking apron, alleyway area and runways.
Stuth explained that in taking a long-range approach to addressing and resolving larger maintenance issues, the airport will finally be free of "band aid" repairs, such as to solve ongoing hangar and pavement degradation issues in the older airport area that, built over a former landfill, may present some underground concerns.
Already presented, as required by law, for input from State Department of Transportation, Division of Aeronautics and Federal Aviation Administration (FAA) in December, additional plan input was incorporated from the Airport Advisory Committee and airport users. In requesting approval of the plan, Deputy County Administrator Daniel Richardson received authorization for the county administrator to sign grant offers.
A plan for Pine Mountain Lake Airport has yet to be submitted for state and FAA pre-approval.