Spring-like Temps Will Limit Local Ski Choices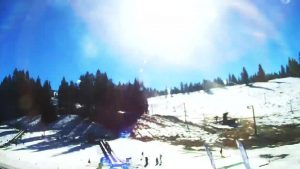 Dodge Ridge Base Web Cam Image 1-1-9-2015

View Photos
Beginning Tuesday, Jan. 20, ski operations at two Mother Lode resorts will be on hold until Mother Nature brings more snow.
For the Martin Luther King, Jr. holiday, today, Dodge Ridge Resort in Pinecrest reports that two of its 12 lifts and the conveyors are in service between 9 a.m. and 4 p.m., with six of its 67 runs groomed for skiers. The resort website also indicated that, due to unseasonably warm temperatures, the upper mountain lifts are currently closed and that, beginning, Tuesday, Jan. 20, the mountain will be on hold until another winter storm provides enough snow to resume operations. A Dodge Ridge spokesperson was not immediately available for comment this morning.
Yosemite Badger Pass Ski Area, also open today with lifts in service from 9 a.m. to 4 p.m., reports that melting snow conditions make it necessary for it to close Tuesday. Plans are to reopen as soon as there is enough snow to support ski operations. During the Monday holiday, the website reports four of its five lifts are open, along with five of nine runs. The tubing area is closed.
Bear Valley, which has snow-making ability, is boasting "spring-like" temperatures for skiing and other winter sports. It currently reports a 31-inch base, with seven of nine lifts open, along with 44 of 75 trails; 18 of which are groomed. Also open and groomed are its three terrain parks.