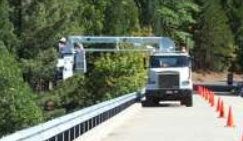 Under-bridge Inspection Vehicle

View Photos
Moccasin, CA – A unique vehicle will be making repairs on a Tuolumne County bridge next week that could cause traffic delays.
Road crews will be using an Under-Bridge Inspection Vehicle to check the Jacksonville Road Bridge infrastructure.  Flaggers will be conducting one-way traffic control on the bridge starting on Monday, January 19 through Wednesday, January 21.  The work will be done from 8:00 a.m. to 5:00 p.m. each day.
The  Tuolumne  County  Board  of Supervisors  awarded MGE Engineering, Inc. of Sacramento the bridge inspection contract for the "Jacksonville Road Crossing Tuolumne River Bridge Rehabilitation Project".  The work will not include any construction, according to county road officials, who add motorists can expect minor traffic delays as the vehicle scans the bridge.