FBI Suspect Caught In Columbia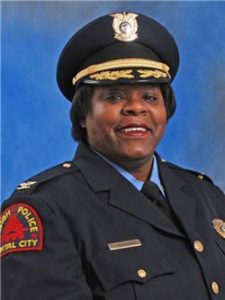 Raleigh Police Chief Cassandra Deck-Brown

View Photos
Columbia, CA —  A California man accused of making death threats against a Raleigh, North Carolina police chief has been arrested by Tuolumne County Sheriff's deputies.
The FBI notified the Sheriff's Office that Jesse Lee Kuhl, 36, of Stockton, might be in the area.  Kuhl was wanted for sending dozens of emails with racial slurs and death threats in them to Raleigh Police Chief Cassandra Deck-Brown, according to the FBI.  One of the threats stated, "I demand you resign or you deserve to die."
Sheriff's deputies arrested Kuhl today at a home in the 11200 block of Highway 49 in Columbia.  Sgt. Scott Johnson explains what led them to Kuhl.  "We didn't get a tip.  We were able to follow up on some phone communication.  He was taken into custody.  We also took two cell phones he had into custody as evidence.  Both the cell phones and Mr. Kuhl were then…turned over to the FBI."
Johnson says Kuhl was arrested without incident and the FBI has taken him out of county. He is facing federal charges for "Using an Electronic Communication Service to Engage in a Course of Conduct with the Intent to Harass or Intimidate Another Person."
Kuhl's first court appearance will be in federal court in Fresno tomorrow afternoon.  Johnson adds the department is no longer involved in the case.