Man Allegedly Robs Woman At Knife Point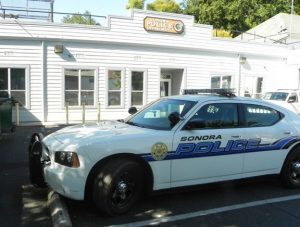 Sonora Police Department

View Photos
Sonora, CA – The Sonora Police Department has been investigating a report of a robbery in downtown. The incident allegedly happened just before 11 p.m. this past Friday outside a downtown Sonora restaurant in the 100 block of South Washington Street.  A woman reported to police that a man came up behind her and held a knife to her throat, demanding money.  She says she gave him all her cash and he took off running.
Police Chief Mark Stinson confirmed a robbery report was made, but he says the incident remains under investigation.  When asked if there have been other reports like this in the city recently, he said there have been two, but neither involved a weapon.  "We found one of the robbery reports was made up and the other is still under investigation," says Stinson. "But neither is like this one [Friday's]."
Chief Stinson says investigators have no description of the alleged robber.