State Funding Fairs, Again?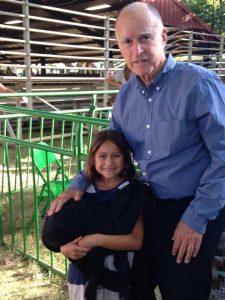 Governor Brown with Katie Morelos and her baby goat at the Mother Lode Fair

View Photos
Sacramento, CA – Governor Jerry Brown's new $113-billion budget proposal targets money to restore funding to fairs in the State, an idea Mother Lode Assemblymember Frank Bigelow applauds.
Today, Bigelow threw his support behind the Governor's 2015-16 budget fair funding proposal that allocates $3.1 million to California's 75 fairgrounds.
"I applaud Governor Brown for his continued commitment to restoring funding to California's fair network.  California's fairgrounds, especially those in our rural and foothill communities, are indispensable economic, public safety and educational assets for the communities they serve.  In the coming months, I look forward to working closely with my legislative colleagues and Governor Brown to ensure that we continue to invest in our fairgrounds and preserve them for future generations."
As previously reported, Brown released his budget last Friday.  The money included in the fair funding proposal will assist with fair operations, improve the financial stability of smaller fairs statewide, and provide funding for additional fair board training according to Bigelow.  He adds the plan includes an additional one-time allocation of $7 million for deferred maintenance.  In 2011, budget shortfalls prompted Brown to cut fair funding from the budget, which eliminated state money for both the Mother Lode Fair and the Calaveras County Fair and Jumping Frog Jubilee.