Stop In Groveland: Don't Just Pass Through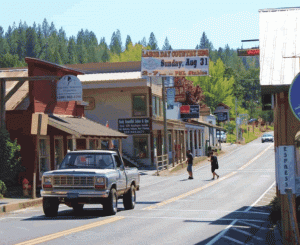 Groveland

View Photos
Groveland, CA — A transportation plan is being developed to help make Groveland more of a stop, and less of a drive through, on the way to Yosemite National Park.
A public meeting on the "Groveland Active Transportation Circulation Improvement Plan" will be held this Thursday at the Groveland Community Hall at 18720 Highway 120. Tuolumne County Transportation Council Planner Tyler Summersett says the idea for the plan got off the ground at the request of Groveland organizations and businesses. "They said that we've got 600,000-plus people a year coming through the downtown Groveland area, and there have really been minimal improvements for walking, biking and major transportation mediums, " says Summersett.
The plan looks at whether there are additional locations for tour buses to park, other than Mary Laveroni Park, so that visitors could more easily percolate into the downtown area. It also looks at ways to improve biking and walkability of downtown Groveland, and also Tioga High and Tenaya Elementary Schools.
For more information on the project, click here, and scroll towards the bottom of the page where specific projects are listed.
The plan is being funded by $20,000 from a Community Transformation Grant, via the Public Health Department, and $20,000 from the Tuolumne County Transportation Council. The plan will likely be finalized and adopted by TCTC sometime in late February or early March. TCTC would then start looking for funding that could be available for the projects included within.
Thursday's public meeting, where the community is encouraged to provide input, will run from 6-7:30pm.