Felony DUI Motorcycle Crash Detailed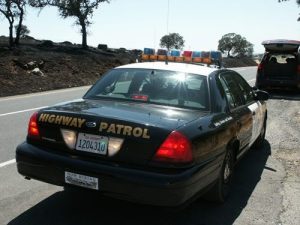 CHP Unit

View Photos
Sonora, CA — The CHP reports that a Sonora motorcyclist sustained major injuries and was arrested on two charges following an alcohol-related crash Saturday afternoon along Hwy 49 south of Reynolds Ferry Road.
Around 3:40 p.m., Gary D. James, 57, of Sonora was headed southbound, according to CHP, when, due to his level of intoxication, he lost control of his 2003 Fastt motorcycle and collided with a raised asphalt curb. Drifting back left, James then hit the left side of a northbound vehicle, a 1992 Honda driven by 53-year-old Kenneth Mosley, of Groveland. As a result, James and his motorcycle passenger, 49-year-old Mary J. Hillman, were both ejected from the motorcycle, which came to rest in the southbound lane. The impact also caused Mosely to lose control of his vehicle, which collided with a raised curb, rotating across lanes before winding up on the west shoulder.
James suffered major trauma and was flown by helicopter to Doctors Hospital in Modesto. His passenger Hillman was transported by Tuolumne County ambulance to Sonora Regional Medical Center for treatment of moderate injuries. Moseley reportedly sustained no injuries from the crash. James was cited for a felony DUI and driving without a license.