Electrical Work To Slow Traffic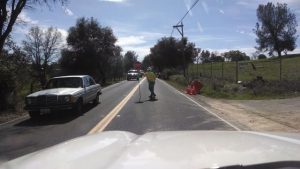 Road work

View Photos
There will be a traffic delay on Highway 120 in Tuolumne County midweek.  Caltrans crews will be doing electrical work, with flaggers directing one-way traffic, on the highway from Deer Flat Road to Ferretti Road.  The work will begin on Wednesday, January 14, and run through Thursday, January 15, from 7:30 a.m. until 5:00 p.m.
Work continues on Highway 4 in Calaveras County, as crews will be paving on the highway from Main Street/Douglas Flat in Murphys to Meko Drive above Arnold.  There will be one-way traffic control from 7:00 a.m. until 5:00 p.m. Monday, January 12 through Friday, January 16.
Motorists can expect 10 to 15-minute delays for both roadway repair projects.  Caltrans asks that motorists to take an alternative route when every possible.