Funding Available For Mother Lode Schools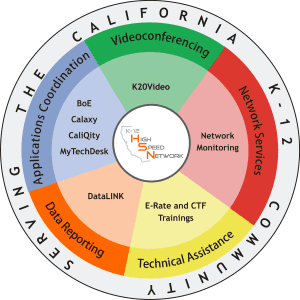 CA K-12 High Speed Network logo

View Photos
Soon, nine of the Mother Lode's more remotely located public schools may plug into the state ed network, via grant.
They are among 227 in the state designated to share nearly $27 million in newly awarded grant funding to bring schools online for testing and to access educational resources.
According to State Superintendent of Public Instruction Tom Torlakson the grants will connect an additional 63,000 students to the state education network. By providing this "critical last step," he says, the schools will achieve the necessary access that will allow them take the new computer-based California assessment tests and optimally tap other resources that will help prepare students for college and careers.
Among the awardees designated eligible to receive the improvement monies are five Tuoulumne County schools. They are, in Summerville Union High School District, South Fork and Cold Springs high schools; in Big Oak Flat/Groveland Unified School District, Tioga and Don Pedro high schools and Tenaya Elementary School.
"These are all shovel-ready projects, so that they're hoping that the 2015 calendar year is [when] these will be done," says Brian Thomas, Tuolumne County superintendent of schools director of instructional technology.
Additionally, through Calaveras County Office of Education, Mountain Oaks and Oakendell Community schools were designated, as well as Mark Twain Union Elementary School District's Mark Twain and Copperopolis schools.
Last year, after state public schools took field tests to determine their readiness for implementing the new computer-based assessment program, 300 sites lacked sufficient online capacity to connect to the state's Research and Education Network. Of these, those with the most need became eligible to receive Broadband Infrastructure Improvement Grants (BIIG) to effectively, bring them online. The rest will be assisted through other means.
As State Board of Education President Dr. Michael Kirst puts it, getting all school sites connected is critical as the new online system provides teachers more resources to improve instruction, improves students' test-taking experience, and ensures that results are available to teachers, parents, and students much sooner than ever before.