Documentary Film Features Two Former Local Residents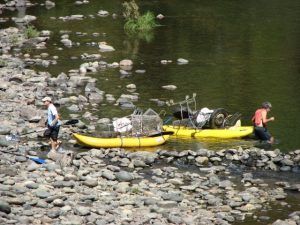 Kayaks

View Photos
This Saturday night, a documentary film called "Nobody's River" will be shown at the Sonora Masonic Lodge. This film features two former residents of the Mother Lode.
B.Z. Smith, founder of 2nd Saturday Arts Night and Laurie Lehmann, associated with the Tuolumne County Arts Council, were both Wednesday's KVML "Newsmaker of the Day".
Smith stated, "We are entering into our fifth year with 2nd Saturday Arts Night in Sonora. Over this past year, the number of people participating has grown significantly.
"We are happy to have the backing of the Sonora Chamber of Commerce. This has allowed some great opportunities for growth and some fundraising ideas.
This Saturday night (January 10th) will mark Art night #53. The hours run from 5 PM through 8 PM. It started in 2010 with six art galleries and about one hundred and fifty people. The event has been held on the second Saturday of each month ever since.
New this year is a program called "After 8". There will be at least three "After 8's" this year, which will allow the public to participate in specific programs, celebrations or events, immediately following Arts Night, which concludes at 8 PM.
This Saturday shortly after 8 PM, the documentary 'Nobody's River' will be shown at the Sonora Masonic Lodge, located at 16 South Washington Street in Sonora.
Two ladies (Becca Dennis and Sabra Purdy) featured in 'Nobody's River', are from the Mother Lode and still have family in the local area.
'Nobody's River' is an award winning documentary about four women from the USA who have chosen to kayak down the Amur River in central Asia.
Tickets are already sold out, however a few additional seats will be added for those who want to line-up outside of the Lodge this Saturday night. There will also be some "Standing Room Only" tickets sold at the door. The documentary itself is less than 45 minutes long.
For more information, log onto http://www.2ndsaturdayartnight.org/
The "Newsmaker of the Day" is heard every weekday morning on AM 1450 KVML at 6:45, 7:45 and 8:45am.