New Housing Subdivision Near Willow Springs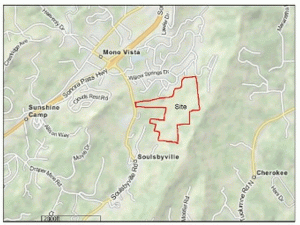 Oak View Estates Site

View Photos
Soulsbyville, CA — An Environmental Impact Report is being prepared for a proposed 123 lot residential subdivision in Tuolumne County.
The proponent for the Oak View Estates is Kenning Properties Inc.  Tuolumne County is the lead agency preparing the EIR, and is accepting public comments up until January 30, in regards to what should be included in the scope of the document. The land is directly south of the Willow Springs subdivision, near Soulsbyville. The applicant is requesting that the county change land-use and zoning designations to allow for the additional development.
The developer would construct 1.8 miles of roads to provide access to the homes. Click here to find additional information.