Initial Snowpack Reading: Drought Continues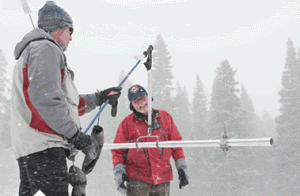 California Snowpack Measurement

View Photos
The California Department of Water Resources conducted the first manual snowpack measurements in the Sierra Nevada.
The snowpack is 50% of average for this time of year. The northern Sierra is 57% of normal for the date, the central Sierra is 45%, and the southern Sierra is 48%. California is in the midst of four consecutive years of drought like conditions.  DWR Director Mark Cowin says, "Although this year's survey shows a deeper snowpack than last year, California needs much more rain and snow than we've experienced over the past two years, to end the drought in 2015. The department encourages Californians to continue their water conservation practices."
Last year at this point the snowpack was at a record low 20% of average for the date.