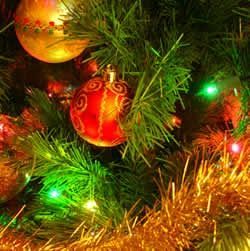 Christmas Tree Lights

View Photos
Sonora, CA – With the holidays winding down, there is one more gift you can give, to Mother Earth.
Instead of pitching a live tree into a landfill to rot, why not have it turned into mulch.  You can bag up the wood chips and use them yourself or leave them form someone else to use.  To find out the different mulching options and locations click here (Christmas Tree Recycling ).
Another way to help the environment is to collect all the Polystyrene (a form of Styrofoam) from gift boxes and other packaging.  Instead of throwing it into the garbage, hand it over to the Tuolumne County Master Gardeners.  The group will be collecting it at Waste Management's Camage Avenue facility in January.  For more information click here (Polystyrene Collecting).