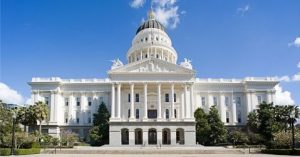 California State Capitol

View Photos
Sacramento, CA – A number of bills signed into law by Governor Jerry Brown will take effect January 1, 2015. Some of the new measures will impact veterans, film production, lumber, and the controversial fire fee.
Residents will get a break on penalties for not paying the fire fee. AB 2048 will eliminate the 20% per month penalty and adds a provision for a one-time 10% penalty charge. Cal Fire will also be allowed to consider any fee appeal submitted after the filing deadline. In addition, fire fees could be refunded to homeowners if their house is destroyed due to a natural disaster.
For vets whose 100% disability rating was delayed by the federal government and caused them to be denied exemption from state property taxes, SB 1113 will allow refunds for the past eight years. In addition, AB 919 will refund sales tax, interest, and penalties paid from 2002 to 2010 for veterans who travel to sell small sales items. Additionally, small lumber sellers will get some relief.  AB 2031 ends sellers of small amounts of lumber products from having to collect California Lumber Products Assessments.
The state's expansion of the film and television tax credit law to entice more productions back to California will also take effect.  AB 1839 will increase the state's tax credits to $330 million per year for the next five years. It also will expand the eligibility to include large-budget feature films and TV pilots, and eliminates the cap for studio and independent films.