Wind Down The Year Outdoors This Weekend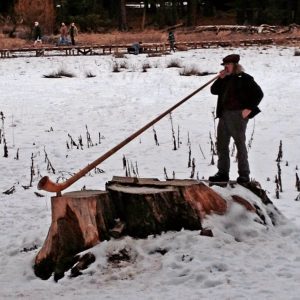 Big Trees Winter Carnival Alpenhorn Player, 2013

View Photos
This last weekend of 2014 is a perfect time to enjoy the Mother Lode's great outdoors at activities sponsored by at least two landmark locations, a perfect opportunity to maybe burn a few Christmas cookie calories at the same time.
On Saturday, Dec. 27 —

10 a.m.: go take a hike! Interested residents are invited to meet at the corner of Shell and Rawhide Roads, in Jamestown, for a free, ranger-led, three-mile hike of Table Mountain. The hike, with a quarter-mile series of steep, rocky switchbacks, is challenging and features grand vista views at the top of New Melones Lake. Along the way, you can hear exactly how this local landmark geologically came to be. Make sure to wear sturdy shoes, weather-appropriate clothing and it is suggested to bring a water bottle and sunscreen. Adults must accompany hikers who are under the age of 18.
The New Melones Visitor Center and Museum, managed by the Bureau of Reclamation Central California Area Office, is open daily from 10 a.m. to 4 p.m. For directions and more details on other activities as well as pet restrictions, call (209) 536-9543 (TTY 800-877-8339) or visit the New Melones Lake website.
1 p.m.: take a ranger-led guided walk of Big Trees' State Park North Grove, beginning from the warming hut. If there is enough snow, the walk will become a snowshoe hike, with snowshoes provided at no charge. These hikes happen every Saturday at this time. The hut is open weekends and holidays from noon to 4 p.m., complete with a roaring fire, complimentary hot chocolate, cider, coffee and tea.
On Sunday, Dec. 28 —

11 a.m. to 4 p.m.: Calaveras Big Trees Association holds its 5th annual Winter Wonderland Carnival, rain or shine. Although the tickets to the horse-drawn carriage rides are sold out, visitors are still welcome to come out and enjoy music, games and other family activities, as well as cookies and popcorn. In addition to the $10 park entrance fee, there is a $5 per family charge to enter Jack Knight Hall for the carnival festivities.
Looking ahead to New Year's Eve, here's a way to stay active, albeit, indoors…
Wednesday, Dec. 31 —

From 8 to 11:30 p.m.: for those in search of an old-school style good time this New Year's Eve, the Sonora Contra Dance at the Aronos Women's Research Club (37 E. Elkin at Stewart St., Sonora) features contra line and traditional square dancing in the old-time country dance tradition. All ages are welcome for this couples, singles and family-friendly event. For beginners, the dance callers provide a short instruction before each dance, accompanied by live old-time string band music by Dr. C's Old-time Serenaders.