Turkey With All The Trimmings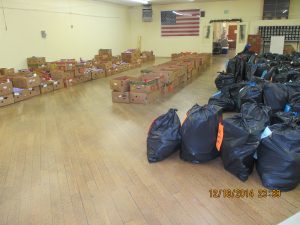 Groveland Community Christmas Baskets donations

View Photos
Tuolumne County, CA – Pass the stuffing please…Some families in Tuolumne County are enjoying a Christmas dinner today, thanks to the kindness of others.
On Friday, more than 5,000 bags filled with holiday feasts were given out to feed over 4,000 people, according Lee Kimball, director of the Amador-Tuolumne Community Action Agency (ATCAA).
"I am beyond over the moon," says Kimball.  "The community was amazing.  I'm estimating that there was at least a couple thousand who contributed, whether through money or volunteering.  It really was terrific!"
The town of Groveland also had the giving spirit.  Over 79 dinners were handed out during the Groveland Community Christmas Baskets event on Friday.  Organizer Darlene Brown says, "It's pretty amazing. Absolutely everything is donated.  There is not a penny that has been spent that hasn't been donated by somebody in the community."
Kids also received six toys, along with much needed clothing and shoes at the event.