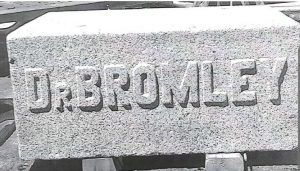 Bromley Carriage Stone

View Photos
Sonora, CA – It is not that big, but it is a hefty piece of Sonora's history.  In the season of giving, the Tuolumne County Board of Supervisors this week unanimously voted to accept the 500-pound "Bromley Carriage Stone" as a deeded gift.
The stone was used as a step to help riders get in and out of horse drawn carriages.  In the early 1900's, the granite stone sat on Washington Street outside the office of Doctor Robert Innis Bromley, where the Yosemite Title Company stands in Sonora today.  The county and city have been working together to return the stone to where it originally sat.  The plan is to loan the stone to the City of Sonora for its "Vision Sonora" downtown development plan.  However, it is still in the planning stages.
County Assessor-Recorder Ken Caetano says, "We've also discussed…the possibility of displaying the item [stone] sometime in the nearer future, before "Vision Sonora" is completed.  Hopefully, we can work out an agreement with Yosemite Title to where they could display that [stone] inside of their building, until such time as it can be placed outside for the public to see."
It is an agreement, Yosemite Title Company is happy to oblige as Owner Jeff Kerns told the board.  "We would be honored to have the stone in our office for safe keeping.  Being in the title insurance industry, our business is history.  We think it is a great piece of history and we would love to be a part of the Bromley Stone history."
There is no set date for displaying the stone at this time.  However, Sonora City Council member, Connie Williams, assured the board that the money needed to complete the development phase involving the stone's display has already been approved.