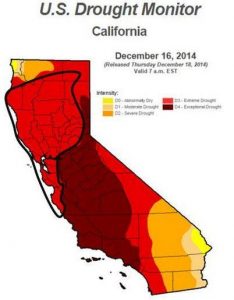 U.S.-Drought Monitor Map

View Photos
Sonora, CA – Newly released maps track how the recent wintry weather has impacted the Mother Lode drought-wise.
A new U.S. Drought Monitor Map highlights that the majority of Northern California dropped one category, improving from a D4 Exceptional Drought to D3 Extreme Drought.  (Map to left.)  In the Mother Lode, that category change took place in just a small southeast section of Tuolumne County, in Yosemite.  "It's a short-term gain," explains Michelle Mead, a Meteorologist with the National Weather Service.  "There has been a lot of run off.  It will not be one storm that will restore the ground water levels."
 Mead says a map of the state's reservoir conditions shows that the rain did little to improve the drought situations at area reservoirs.  New Melones capacity sits at 22% and Lake Don Pedro at 38%.  "Those are still very, very low for this time of year," says Mead, "We definitely got an increase from the rain, but we still have a long way to go to fill those guys."
Another map outlines the snowpack with a statewide average at 47% of normal to date.  Mead says what is troubling is that it shows no significant snowpack below 5500 feet.  She says the deeper and lower the snowpack, the longer it will take to melt off and continue to fill the reservoirs farther into the summer months.
Mead cautions all the maps point to one conclusion; "We're still in trouble.  One storm isn't going to do it."