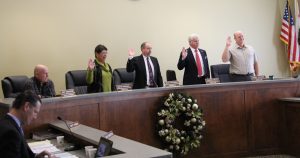 CCWD Board taking oath

View Photos
San Andreas, CA – The new Calaveras County Water District (CCWD) Board held its first meeting yesterday that included three newly elected members.  After being sworn into office, the Board got right down to work.
The first item of business was electing a board president and vice president.  New members, District 3 Director Bertha Underhill, was voted in as president and District 2 Director Terry Strange was elected vice president.
CCWD spokesperson Joel Metzger says board members will likely be appointed to committees at next month's board meeting.
The other board members are:
District 4 Director Dennis Mills, elected in November.
District 1 Director Scott Ratterman, won re-election.
District 5 Director Jeff Davidson, was not up for re-election.