Tuolumne County's Population Declines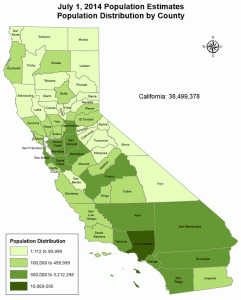 California Population Figures

View Photos
Sonora, CA — New census figures show California's population grew by 335,000 over the past year, but the population declined in Tuolumne County.
12 of California's 58 counties lost residents between July 1st of 2013 to July 1st of 2014, including Tuolumne County. The county's population fell by 231, down to 53,887. Calaveras County gained 227 residents during the same time frame, to 45,079.
Breaking down the numbers, Tuolumne County had 668 deaths, 463 births, and the net migration was minus-26. Calaveras County had 509 deaths, 365 births, and a net migration of 371.
The counties growing the fastest are Los Angeles, San Diego, Orange, Riverside and Santa Clara. The counties losing residents the fastest are Kings, Sutter, Tuolumne, Plumas and Humboldt.
The statistics were released by the California Department of Finance.