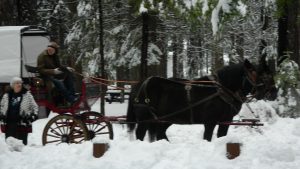 Horse Drawn Carrage Ride Big Trees

View Photos
Several festive seasonal events will continue this weekend in Sonora and the Mother Lode area.
On Saturday December 13th, the Summerville Parent Nursery School's Annual Christmas shop will offer a large selection of handcrafted items for adults, Bake shop, Silent Auction and a used book sale. Also, children 12 and under with the help of an Elf, may choose from hundreds of handmade crafts at very low prices to purchase and gift wrap themselves. Details are here.
Columbia College's Symphony of the Sierra will perform Franz Schubert's Unfinished Symphony at their winter concert. The free concert will be lead by conductor Mic Harper in the Dogwood Theatre at 3:00 p.m. on Saturday. Harper says, "The musicality of our local musicians is really quite astonishing. It is an honor and pleasure to work with them and to present this concert."  The concert includes the seasonal favorite, "Have Yourself a Merry Little Christmas." and other classical pieces. "This repertoire provides a wonderful introduction to orchestral music for children and also is complex enough to satisfy the seasoned classical ear," says Harper. The event listing is here.
The Pathfinder Expeditionary Club will be holding their 3rd annual Christmas toy and jacket drive to support Tuolumne and Calaveras county Foster kids. New, unwrapped toys or jackets can be donated at Burger King in East Sonora for ages ranging from infant up to teenager. Details are in the event listing here.
Another Holiday Toy Drive and Shopping Event will be hosted by several small business owners including face painting for kids. Vendors will feature items, pet adoption information will be available and there will be homemade goods such as; Cookies, Cupcakes, Pies, Breads and Soups. Toys will be donated to Interfaith, all the details are here.
The rest of the Saturday events are here.