Tree Into Sonora Structures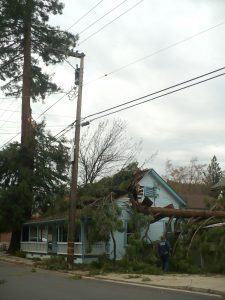 Tree down. Stewart St., showing trunk splinter and tree height

View Photos
Sonora, CA — The Sonora Police Department is asking that you avoid a portion of South Stewart Street due to a downed tree.
The PD reports that South Stewart Street is currently closed between William Street and Lytton Street. It is not immediately clear how long the street will be closed.
At 12:30 p.m., Sonora Police re-opened Stewart Street to traffic.
A special thanks to community news partner Leticia Mora for sending in one of our images. Photos can be e-mailed to news@clarkebroadcasting.com.