Coaching Volleyball Champions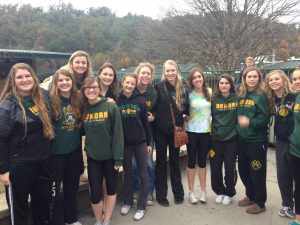 Sonora High girls volleyball team heading to state finals

View Photos
The Sonora High School girls volleyball team won the Division IV 2014 CIF State Championship in Southern California last weekend.
Sonora Wildcats Volleyball Coach Kim Evans was Wednesday's KVML "Newsmaker of the Day".
The Wildcats had already become the Northern California Champions last week, which sent them to the state championship game.
Evans is now in her seventh non-consecutive year of coaching the Wildcats volleyball team.
At the beginning of this year, Evans along with Assistant Coach Tina Cruz, thought that this particular team had a great chance of going all the way this year.
"This team wasn't just a year in the making. It was several years in the making. A lot of these girls had been playing together since they were eleven or twelve. Many of them play in the off-season. They do everything they can to better themselves. With them being good friends, it helped in team dynamics and team chemistry," said Evans. "All season long, what we saw was that these girls were playing for each other."
Evans continued, "We had seven seniors on the team, so there was great leadership and maturity. They made decisions together as a team and then the captains would come to us with the decisions that were made."
According to Evans, she is not sure if the girls can fully comprehend at this point what this year's team accomplished. The players certainly know on the surface level that they won the State Championship Title, however Evans believes that as the years go on the girls will understand and appreciate that they made history.
The "Newsmaker of the Day" is heard every weekday morning on AM 1450 KVML at 6:45, 7:45 and 8:45 AM.