Strong Storm Expected This Thursday And Friday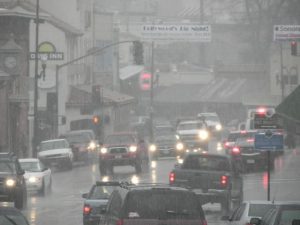 Rain In Sonora

View Photos
According to the National Weather Service, a major storm will impact Northern California this Thursday and Friday.
Precipitation should begin Wednesday night and continue through Friday. The heaviest precipitation is expected on Thursday.
One to four inches of rain expected across the central valley. Five to ten inches of rain is expected over the Sierra Nevada mountains.
One to two feet of snow accumulation is likely above 6000 feet.
Wind gusts higher than sixty mph are anticipated.
It is likely that the combination of heavy rain and wind will bring widespread power outages, downed trees, urban and small stream flooding with possible flash flooding, rock slides over steep terrain, debris flows over recent burn scars and hazardous travel with heavy snow over the Sierra Nevada.