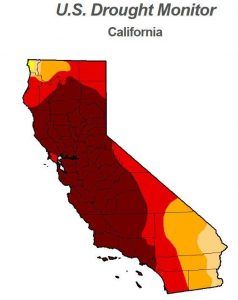 Drought Monitor Map

View Photos
Recent rainfall in the state is not having much effect on the drought, according to a federal report put out today that found 99.7% of California remains in moderate drought or worse conditions.
The U.S. Drought Monitor update found California's dry conditions are unchanged with 55% of the state still in the extreme category of drought.  The drought update does not include this week's rainfall.  However, Climatologist Mark Svoboda at the National Drought Mitigation Center in Nebraska says, "You're looking at anywhere up to one year's worth of water behind.  Even 125% or 150% of normal is not going to erase three years of deficit."
The report shows the snow-pack is just starting to form, and is below normal for December 1, while reservoirs are just starting to gain more water than is being lost, a condition that typically occurs earlier in the fall.  Svoboda explains the real key is snow. He states, "We need it to be a lot of snow, and we need it to be cooler so it stays up in those mountains come next summer."
About one-half of California's annual precipitation is expected to fall during the months of December through February.