Sonora Volleyball Heading To State Finals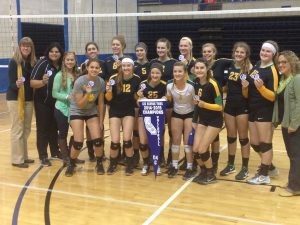 Sonora High School girls volleyball team

View Photos
Sonora, CA — The Sonora Wildcats are the NorCal Champions.
Last night, the Sonora girls volleyball team defeated Notre Dame of Belmont, 3-1 (15-25, 28-26, 25-23, 25-20). The match was held over in Belmont, but Sonora High had a strong contingency make the trip, including the Golden Regiment Band.
The 2014 Wildcats are an experienced team, having seven seniors, and nine returning varsity members from last year's squad. Head Coach Kim Evans says, "This is one of those special teams that you will always remember.  These girls have put their hearts, their sweat and their tears into this volleyball program for a lot of years.  They put in the time in the off-season."
The Wildcats will now travel down to Orange, in Southern California to play Alta Loma on Saturday. The match will start at 12:30pm.