Suspect Killed In Sonora: Two Injured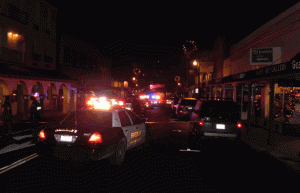 Shootings In Sonora

View Photos
Sonora, CA — (As first reported last night at 11:07pm) One man is dead and two others were injured during a shootout in downtown Sonora.
It occurred during the 10 o'clock hour Saturday evening. The details are still preliminary, and an investigation is ongoing.
Sgt. Scott Johnson, spokesperson for the Tuolumne County Sheriff's Office says, "Shortly after 10 o'clock this evening the Sonora Police Department received a 911 call that there was a suspicious person in possession of a handgun in the city. He was seen in a vehicle, and the vehicle was spotted by the Police Department. A traffic stop was attempted, and a pursuit was initiated. The person then fled the scene. The pursuit went through the city of Sonora and ended up on Washington Street. At this point the Sonora Police Department had been joined in the pursuit by the Tuolumne County Sheriff's Office. On Washington Street, the suspect stopped and exited his vehicle with a weapon. Shots were fired. He was engaged by the Sonora Police Department Officers and members of the Tuolumne County Sheriff's Office, who also returned fire. The suspect was hit by that fire, and he is now deceased. A Sonora Police Department officer was injured in the gun battle and received non-life threatening injuries. An uninvoled citizen was injured also, but I do not know the extent of her injuries."
Resuscitation efforts were conducted on the suspect by law enforcement, and ambulance personnel, but they were unsuccessful. It is not clear what the suspect was doing prior to being spotted in his vehicle, and where exactly the chase transpired. No names are being released at this time by law enforcement.
The District Attorney's Office is also conducting an investigation due to this incident being an officer involved shooting.
Much of Washington Street is blocked off in downtown Sonora, so you will want to avoid the area. Most downtown bars and restaurants closed shortly after the shooting occured, and the street was barricaded. The investigation will likely last well into Sunday, so you will want to avoid the area.
We'll pass along more details when they become available.