MTMC Offers New Technology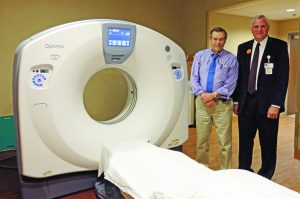 MTMC's Dr. William Griffith and Rick Reed with CT Scanner

View Photos
San Andreas, CA — Mark Twain Medical Center has added new technology that hospital officials say will allow more patients to receive needed care locally.
The hospital has acquired a state-of-the-art Optima660 128-Slice CT scanner. It enables fast and high performance imaging for patients in a variety of clinical settings, including cardiac, vascular, ER and routine CT. MTMC previously utilized an 8-Slice CT scanner.
"Larger hospitals such as Stanford and UCSF have this GE CT model," says Craig Marks, MTMC CEO and President. "Having this advanced imaging available at MTMC allows patients to have their studies completed here locally."
The technology expands MTMC's ability to diagnose and treat additional conditions, such as heart disease, gastrointestinal illnesses, cancer and pulmonary disease.