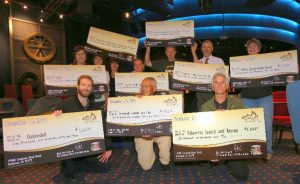 Black Oak Casino Resort annual "Community Grab for Cash " winner

View Photos
Tuolumne, CA – Five thousand swirling dollars in a cube and 30 seconds to grab it.
Representatives from Tuolumne and Calaveras County charities and non-profits made off with more than $15,000 at the annual Community Grab for Cash event.
"The Community Grab for Cash at Black Oak Casino Resort is our way of kicking off the holiday season by giving back to the community," said Ron Patel, Black Oak Casino General Manager.  "It's a fun opportunity for our local non-profit organizations to get some much needed financial support."
Resort officials say over 60 groups applied this year and only the eleven listed here were given a chance to grab the cash.
Calaveras Search and Rescue
Center for a Non-Violent Community
Friends of Calaveras Animal Services
Friends of Columbia
Give Someone a Chance
Groveland's Garrotte Lion's Club
ICES
Oakendell (treatment facility for adolescent boys)
Rose Wolfe Wildlife Rescue
 Sonora Union High School Golden Regiment Band
Valley Springs Youth Center
This is the 12th year for the event, which has given a total of more than $150,000 to charities.