Intense Emergency Training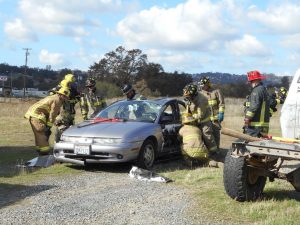 Auto Extrication Class

View Photos
Jackson, CA – A crash involving victims trapped in a vehicle was the scenario in a recent emergency training session in the Mother Lode.
Firefighters from Calaveras and Amador counties were put to the test in a California State Fire Marshal Auto Extrication class held in Jackson this past weekend.  The class was a 16-hour course of intense training on how to remove victims after a wreck, accessing and treating patients.
The students also got a lesson in modern vehicle anatomy, which included hybrid and all-electric powered vehicles, and how to stabilize a vehicle during an accident.  Area residents and businesses donated all the vehicles used in the mock accidents.
A special thanks to our community news partner   Cody Martinsen for sending in these photos.