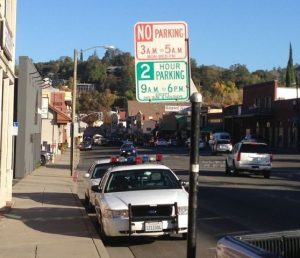 Parking Sign In Downtown Sonora

View Photos
Sonora, CA — Proposed changes to the City of Sonora's parking rules and regulations will be reviewed by a commission this week.
The City Council held a public hearing last month related to what should be allowed in regards to vehicle repairs on city streets, the sale of vehicles on public and private property, and long term parking. However, the proposed changes met some resistance at a public hearing. The City decided to send the proposals back to the drawing board, and be reviewed by the Parking and Traffic Commission.
The commission meeting is scheduled for this Wednesday at 1:30pm at City Hall.
Another topic to be discussed at the meeting, at the request of Mayor Ron Stearn, is to review Lytton Street, between Stewart and Shepherd, to determine if enough width exists for parking on one, or both, sides of the street.
Wednesday's meeting is open to the public.