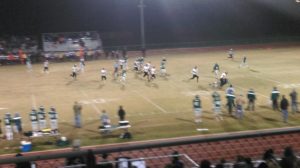 Sonora Wildcats at home against Marysville in playoffs

View Photos
It was a big win last night for the Wildcats and a tough loss for the Bears in the first round of the high school playoffs.
Sonora High played on their home turf and lit up the scoreboard against seventh seed Marysville.  The Wildcats were the second seed and showed why they deserved that ranking by pouncing on the Indians early in the game and never looked back.  Sonora wins 56 to 14.  Sonora will take the field at home again for the second round of the playoffs against Los Banos, the third seed, next Friday, November 21.  Go Wildcats!
Summerville put up a great fight.  It was a nail biter finish with 2:43 left on the clock for the Bears to try to tie up the game, but Summerville fell short.  The seventh seed team played on the road against Colfax, the second seed, losing 42 to 35.
Today the Summerville High boys soccer team has a chance to take the title.  The Mother Lode League Champions will be taking on Millennium High School of Tracy. The team will take the field in Stockton battling for the CIF Sac Joaquin Division Six Championship.