Tioga Pass Closed For Weekend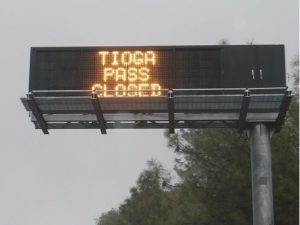 Tioga Pass Closed

View Photos
Yosemite, CA – Highway 120 Tioga Pass was the last to close and will be the last to reopen.
The roadway was closed yesterday afternoon as a snowstorm moved into the high country.  Highway 4 Ebbetts Pass and Highway 108 Sonora Pass were closed in the morning.  Both of those passes reopened today, but Yosemite National Park officials say motorists will not be able to travel on Tioga Pass until Monday.
"There is still quite a bit of snow and black ice on the road," says Ranger Scott Gediman.  "With the black ice it's just too much for the plows so they are going to wait for the weekend as it warms up and then on Monday morning get it plowed and sanded, then open up around noon."
Gediman says the pass got about 3 inches of snow.  Caltrans reports crews removed 4 inches of snow on Sonora Pass to get it open to traffic.
You can check on all the highway conditions by clicking here or go to the home page and click on traffic.